Jan Sundberg Whitsitt Profile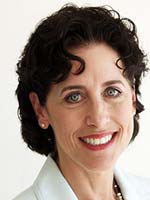 Jan Sundberg Whitsitt launched her career in marketing and public relations as the first woman Staff Director at the Yale Alumni Fund in 1974. After graduating from law school in 1978, she began as a lawyer with the Wall Street firm Winthrop, Stimson, Putnam & Roberts. She then moved on to the Business and Legal Affairs Department at ABC Sports, where she negotiated the network contracts for both the 1984 Summer and Winter Olympics.
Whitsitt has since gained extensive experience throughout a successful career in sports media and marketing, and business development. After a stint at KOMO-TV as a reporter, she wrote the marketing plan for the 1990 Goodwill Games. As the vice president of marketing and broadcasting for the Seattle Supersonics, she increased revenue sponsorship by 500 percent.
She is the co-founder of the gift manufacturing company Lavender Heart Botanicals, and has served on the advisory board for the Hart Marx Corporation, maker of Bobby Jones golf apparel for women.Jan has served as Adjunct Professor at Seattle University's Graduate Program in Sports Administration and Leadership. She is a former Trustee for the Seattle Foundation and former Advisor to the Austin Foundation's Youth & Fitness Programs. In 2005 she was awarded the Community Champion Award by the Austin Foundation.
Jan graduated from Yale University Summa Cum Laude and Phi Beta Kappa. She received her law degree from the University of Virginia.