Negotiation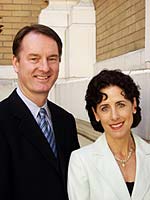 Bob Whitsitt negotiated his first $1 million contract when he was just 24 years old. In the more than 25 years since then, he has pulled off some of the most creative deals in modern sports history and earned a reputation as one of the savviest negotiators in any business. He has regularly negotiated contracts valued in the tens of millions of dollars and he was the architect of the deal that enabled Paul Allen to acquire the Seattle Seahawks.
A supreme strategist, Whitsitt has negotiated successfully with agents, business owners, public officials, advertisers, and sports league officials. The key to his success: relentless hard work and preparation, a talent for building relationships, a knack for recognizing the angles no one else can see, and an instinct for taking the right risk at the right time. Those are skills that apply to any negotiation in any industry.
At ABC sports, Jan Whitsitt handled a wide variety of negotiations ranging from acquiring exclusive television rights to such diverse events as the Olympics, the Australian Open and NCAA Football. She also negotiated talent agreements for on-air and production personalities. As V.P. of the Seattle Supersonics, she negotiated everything from sponsorship packages to arena food and beverage contracts.
Together, the Whitsitts offer the ideal combination of abilities and experience needed to help your company achieve its goals at the negotiating table.